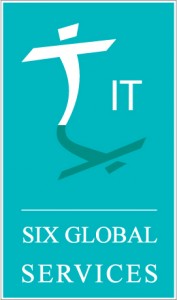 IT Six Global Services
Learn. Perform. Manage.
IT Six is a Romanian software company headquartered in Craiova whose main activity is the development of creative solutions and services for the global market. We currently employ over 140 people, helping us deliver projects to clients in 14 countries on 4 continents.
Join our executive team into an interactive, casual discussion about the global IT market, opportunities and threats for the industry, technology trends, career plans.
We will be happy to share with you our company culture, vision, some of our projects, clients and immediate job openings, as well as more details about the IT Six Academy – a hands-on, practical experience of working with some of the best architects in town.
Where: Department of Informatics, Room 363;

When: Thursday, 7th of May 2015, 12:00 o'clock.

Targeted attendees: Students with passion for engineering and willingness to invest time to build knowledge.
We are looking to expand our dynamic and creative team with more programmers, testers, graphical designers, software architects, project managers and business analysts in all our technical departments:
Microsoft .Net, Java, C/C++, Database/Business Intelligence, QA/Testing, PHP, Web design and Mobile.
UPDATE

– IT Six Global Services announces the 6th edition of the annual Software Engineering Academy program!

Meet IT Six at Faculty of Mathematics and Natural Sciences this Thursday at 12 PM in Room 363 to learn about:
immediate internship opportunities for students in ALL years
why the IT Six Academy is the leading training & mentorship opportunity for students
why you should apply
the format of the upcoming IT Six Software Engineering Academy summer program
what you will learn
how to apply
why IT Six
This program is promoted in partnership with the Department of Informatics within Faculty of Mathematics and Natural Sciences, as part of the series of event Open4Tech – Open for technology.